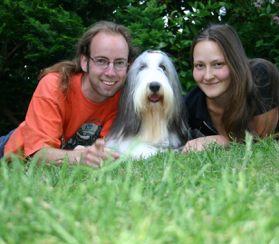 We are Ethel and Harm and we are the owners of the kennel Dazzystar's. Here you can read more about us.

I, Ethel, was born in Tallinn, Estonia. Dogs have been part of my life as long as I can remember. As there were no dogs in our family until I was 6, I was always eager to walk and groom the dogs of my aunt (she owns an Afghan Hound kennel "Oshanameh's"). My parents finally decided to take a bullterrier into our family when I was 6 years old. She was a nice looking white bitch with 2 black ears named Anelma. She was born in December 1988 in Finland. She was shown few times at a dog show and she did quite good in the show ring. But sadly, she had a serious skin condition and therefore she was eventually put asleep.

Meanwhile a second bullterrier, this time a white male, had joined our family. He was born in November 1993 and his name was Fauni. As my parents were never really fond of showing, then I started to show him. Fauni was shown quite many times and he ended up being Estonian champion. He also did what not many bullterriers have done - he won Best in Group (BIG1) in an international dogshow!

Since the age of 10 I have been working at the dogshows. At first just helping out where I could, but at my 15th I passed my ringstewards exam. From that time on, there was no show in Estonia that I missed - either I worked at the show or I showed dogs. I have worked with a lot of different judges from very many different countries and from every single one of them I have learned something.

Showing dogs is another passion of mine. As my aunt and my cousin had usually more than 1 dog to show, I started helping them out with preparing the dogs for the shows (washing and grooming)  and helping at the showrings. They encouraged me to take part in junior handling and not without success. I won at most shows, including the biggest show in Estonia, the Estonian Winner Show. And I also did what no other Estonian Junior Handler had done - I competed at the junior handling competition at the Finnish Winner Show (in Finland there are many very good handlers, and at the winner show there are usually about 50 contestants) and I was placed!  

I also handled dogs outside junior handling ring and also with success - very many best of breeds, several group placements and BIG and placements at the BIS (Best in Show) ring.

In between all this I tried to educate myself and read all that I could find about dogs and animals. My interest in them grew and I wanted to learn more about their behaviour. I followed different courses, including handling courses, learned a lot from many famous different handlers and breeders, and spent most of my free time with dogs and doing dogstuff. I also helped my aunt and cousin out with walking the dogs and helping with the puppies and training their dogs.

In 2001 I finished my high school but I didn't feel like going on to university immediately. Instead, I wanted to do something with dogs and preferably somewhere abroad. Accidentally, at the Estonian Kennelclub magazine, I saw an advertisement - a well known Bearded Collie & Old English Sheepdog (OES) kennel in Belgium were looking for a kennelgirl! It seemed to be something for me. Before going to Belgium, I wasn't really familiar with those two breeds and in fact, of what I had seen, I didn't even like them.

In september 2001 I travelled down to Belgium, and little did I know how this would change my life. When I arrived there, Conny and Joop (the kennel-owners) introduced me to their dogs. I was immediately blown off my feet - I had never in my life yet seen such beautiful Bearded Collies!! From Conny and Joop I learned a lot about those two breeds they dedicated their life to. I learned how to groom them, take care of them, about their character, what the perfect Bearded Collie should look like, how to take care of their puppies and all the other important information. It didn't take long for me to fall in love with this beautiful breed.

In May 2002, Conny and Joop had a litter after World Winner Verybrown ("Laura). She was a very beautiful bitch, with the most beautiful brown colour and she had a very sweet character. I bought a blue Beardie girl Blue Lagoon ("Annie") from that litter and this changed my life. At first I was a bit afraid what our Bullterrier Fauni would do as he was not always the nicest to other dogs, but he, just like my parents, fell in love with this small hairball. They even wanted me to leave Annie to them when I eventually moved to Holland!

When back in Estonia from my year in Belgium, I had made up my mind that I wanted my future job to have something to do with my hobby. As it wasn't possible to study animals etiology in Estonia, I entered the Faculty of Veterinary Medicine at the Estonian Agricultural University. After studying there for 2 years, I decided to move to Holland in 2004 to be with Harm. That summer we received a letter that I was excepted to the Faculty of Veterinary Medicine at the University of Utrecht. It did mean that I had to start studying Dutch very quickly as I got the time limit of one year from the University to do that as all the courses are in Dutch and the exams had to be done in Dutch as well. I managed to pass my Dutch exam 6 months later. I could finally start with my studies in Holland in 2005.

We always wanted to breed with our Annie as we believed that she is a very beautiful representative of Bearded Collies and has a lot to give to this breed. Due to our living circumstances, we were not able to breed with Annie ourselves and we "rented" her out to Conny and Joop in 2006 so that she could be used for breeding (and we would be able to have puppies ourselves later on). Annie's first litter was born in November 2006. In this litter there were three great boys with each a different colour: black, blue and brown. For more information on them see our offspring. Even though Annie's first litter wasn't born in our kennel, we do have it on our website, as we are very proud of those boys of Annie.

In May 2009 Annie had her second litter (and the first litter for our own kennel). In this litter there were 6 puppies (5 girls and 1 boy). Five of them went to loving and caring families, and we decided to keep one girl (Lisa) as a companion for Annie. This turned out to be a good choice as Annie and Lisa love to play and run with each other, and be mischievous. Photos and more information about the puppies, Lisa and Annie can be found on the pictures, litters and offspring.

We are members of the Dutch Bearded Collie Clubs, the Dutch kennelclub and the Estonian kennelclub.

If you are interested in knowing more, contact us by e-mail.

Enjoy our website!!!

Ethel and Harm

If you are interested to know more about Bearded Collies in general, don't hesitate to contact us! You can also find more information on Bearded Collies from the websites in our links section.